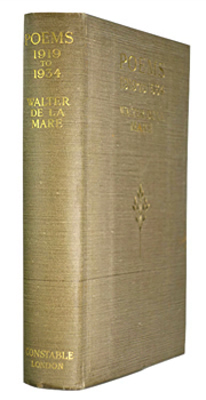 DE LA MARE, Walter (Walter John), 1873-1956 : POEMS : 1919 TO 1934.
London : Constable & Co., (1935). First edition. A handsome collection of De La Mare's later poetry.
Crown 8vo (21cm). (xvi),(380)pp. Original pale grey-brown cloth, ruled and blocked in blind and gilt; edges a little spotted, but otherwise a very good, crisp, clean and sound copy.
£15
To purchase, call us or e-mail us at books@ashrare.com quoting stock number 24263 – or simply click on the button
DE LA MARE, Walter (Walter John), 1873-1956 : PEACOCK PIE : A BOOK OF RHYMES.
London : Faber & Faber, (1941). First Rowland Emett illustrated edition. De La Mare's enduring book of rhymes, first published in 1913 and previously illustrated by Heath Robinson, Lovat Fraser, and others – but here given idiosyncratic treatment by F. R. Emett – Frederick Rowland Emett (1906-1990).
Post 8vo (22cm). 128pp. Illustrations. Original buff cloth, lettered across upper cover and down spine in blue-green; a very good copy in the Emett dust-jacket – a design in yellow, green and tan on white – just lightly worn at tips.
SOLD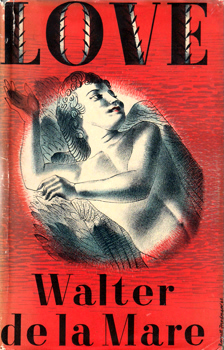 DE LA MARE, Walter (Walter John), 1873-1956 – editor : LOVE.
London : Faber & Faber, (1943). First edition. A sparkling anthology of over 700 passages of poetry and prose as De La Mare explores the differing themes of love – First Love, Grace and Beauty, Eros, The Fever and the Fret, Love Thwarted and Unrequited, Love Betrayed, Love Lamented, Constancy, Love in Grief and much else besides.
Demy 8vo (23cm). cxliv,592pp. Coloured frontispiece, title vignette and black-and-white illustrations by Barnett Freedman (1901-1958). Original grey cloth, decorated in red and gilt in a design by Freedman; lightly sunned, but a very good copy in the Freedman dust-jacket – slightly sunned, price-clipped, lightly worn and with a couple of short tears, but also very good.
SOLD