HILL, Susan (Dame Susan), 1942- : THE ALBATROSS AND OTHER STORIES.
London : Hamish Hamilton, (1971). First edition. The title story, together with four further stories — "The Elephant Man", "Friends of Miss Reece", "Cockles and Mussels", and "Somerville". Winner of the John Llewellyn Rhys Prize for 1972. "Susan Hill has never written anything as deeply moving".
Post 8vo (21cm). [vi],186pp. Original blue boards, lettered in gilt; a few faint spots to top edge, but a very good copy in the Beverly le Barrow dust-jacket — the jacket, barring some light spotting to verso and a hint of tanning to rear panel, also very good.
£50
To purchase, call us or e-mail us at books@ashrare.com quoting stock number 44908 – or simply click on the button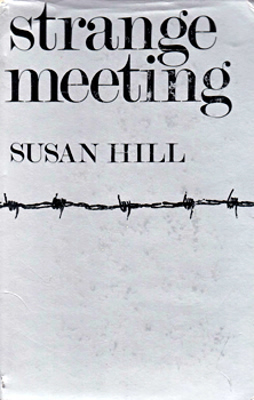 HILL, Susan (Dame Susan), 1942- : STRANGE MEETING.
London : Hamish Hamilton, (1971). First edition. "The most interesting, original and encouraging novel from a young novelist for a long time ... her most ambitious novel to date, a delicate, oblique story, set mainly on the Western Front in the First World War, about a close relationship between two young infantry officers ... beautifully written, moving, lyrical, tense with the sights, smells and din of the Western Front" (Keith Brace, in the Birmingham Daily Post, 23rd October 1971).
Post 8vo (21cm). (224)pp. Original green boards, blocked and lettered in silver; top edge pink; a little bruised at extremities; a few faint marks, but a good copy in the silver George Mayhew dust-jacket — the jacket price-clipped by the publisher, with a revised price (£4.95 as opposed to the original £1.75) over-sticker, similarly bruised, rubbed in places, and a little marked and creased, but in reasonable state for an ill-thought-out production, not designed to last or to be handled.
£25
To purchase, call us or e-mail us at books@ashrare.com quoting stock number 45065 – or simply click on the button