CLARK, Leonard, 1905-1981 : PASSAGE TO THE POLE AND OTHER POEMS.
London : Fortune Press, (1944). First edition. An early collection of forty poems, including "Enigma", "Checkmate Every Move", "Biological Experiment", "No Discount for Cash", etc.
Crown 8vo (20cm). (40)pp. Original blue cloth, lettered on spine in gilt; a few very minor marks, but a very good copy in the original dusky pink dust-jacket lettered in black – the jacket lightly sunned at spine and with a couple of faint marks. D'Arch Smith 120.
SOLD
CLARK, Leonard, 1905-1981 : SINGING IN THE STREETS : POEMS FOR CHRISTMAS.
London : Dennis Dobson, (1972). First edition. A presentation copy, inscribed, signed with forename and dated (1972) by Leonard Clark. A collection of twenty-seven poems, with a preface by Edmund Blunden. Includes "Eve of Christmas", "Christmas Rose", "The Manger", etc.
Pott 4to (17cm). 44pp. Original maroon boards, lettered in silver; slight spotting of top edge, but a very good copy in the original purple and white dust-jacket – the jacket lightly rubbed and somewhat marked on rear panel.
SOLD
CLARK, Leonard, 1905-1981 : THE HEARING HEART.
London : Enitharmon Press, 1974. First edition : [one of 230 copies (of 500) in hardback]. A collection of thirty poems, printed at the Daedalus Press. Includes "Children of Islington", "The Day Hardy Died", "Learning by Heart", etc.
Foolscap 4to (22cm). (46),[ii]pp. Original red-pink cloth, lettered in gilt; very good in the original Daniel Samuels dust-jacket – a striking design in white, pink and black – just lightly marked on lower panel, but also very good. Halliwell 39.
£20
To purchase, call us or e-mail us at books@ashrare.com quoting stock number 11554 – or simply click on the button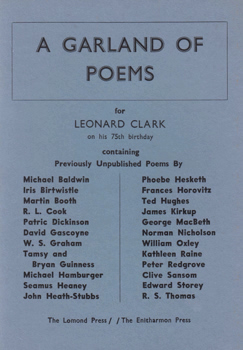 COOK, R.L. (Robert Leslie), 1921- – editor : A GARLAND OF POEMS FOR LEONARD CLARK ON HIS 75TH BIRTHDAY, AS A TRIBUTE TO HIS ACHIEVEMENTS AS A POET AND IN THE CAUSE OF POETRY.
Kinnesswood : Lomond Press / London : Enitharmon Press, 1980. First edition : limited to 400 copies. Includes previously unpublished poems by Martin Booth, Patric Dickinson, David Gascoyne, W. S. Graham, Michael Hamburger, Seamus Heaney, John Heath-Stubbs, Phoebe Hesketh, Frances Horovitz, Ted Hughes, James Kirkup, George MacBeth, Norman Nicholson, William Oxley, Kathleen Raine, Peter Redgrove, Edward Storey, R. S. Thomas and more.
Foolscap 4to (21cm). (36)pp. Original blue stapled wrappers, ruled and lettered in black; just a touch of rusting to staples, but otherwise a very good copy. Halliwell 82.
£40
To purchase, call us or e-mail us at books@ashrare.com quoting stock number 28458 – or simply click on the button