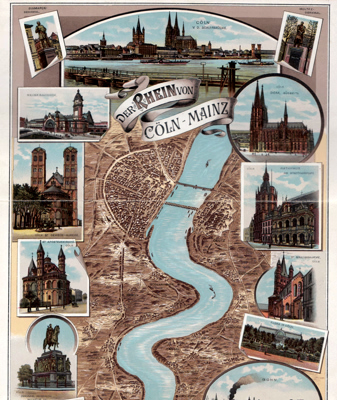 GLASER, Louis, 1842-1911 – publisher : DER RHEIN VON CÖLN – MAINZ.
Leipzig : Louis Glaser, [ca.1890]. A delightful panoramic bird's-eye-view of the Rhine from Cologne to Mainz, taking in Bonn, Linz, Andernach, Coblenz, Bacharach, etc., with over sixty separate views incorporated in the design. Cover-title "Rhein-Panorama von Cöln bis Mainz".
Chromolithograph on glazed thin card. Printed surface 139 x 18.5cm (approx. 55" x 7-1/4"), folding into a demy 8vo (22cm) card case. Case lightly worn; one minor scuff to panorama, but overall in very good state. Just three copies located in major libraries worldwide – none outside Germany.
£75
To purchase, call us or e-mail us at maps@ashrare.com quoting stock number 43524 – or simply click on the button
STOCKDALE, John, 1750-1814 – publisher : A PLAN OF THE CITY OF COLOGN [KÖLN].
London : J. Stockdale, 1800. An attractive town plan of Cologne with good detail of the fortifications and a keyed index to over fifty of the principal buildings. Published by the colourful John Stockdale.
Copper line engraving on paper. Later hand colour. Engraved surface 165 x 235mm (approx. 6-1/2" x 9-1/4"). In very good and clean state. A guaranteed genuine antique map.
£75
To purchase, call us or e-mail us at maps@ashrare.com quoting stock number 15873 – or simply click on the button