PARKER, Eric, 1870-1955 : SURREY GARDENS.
London : B. T. Batsford, 1954. First edition. A charming exploration of eighty Surrey gardens – the wild-life, the writers, and the gardens themselves.
Demy 8vo (23cm). xii,(260)pp. Illustrations by William McLaren. Original cloth; a very good copy in the McLaren dust-jacket – lightly worn, but also very good. Small contemporary ownership inscription.
£15
To purchase, call us or e-mail us at books@ashrare.com quoting stock number 44207 – or simply click on the button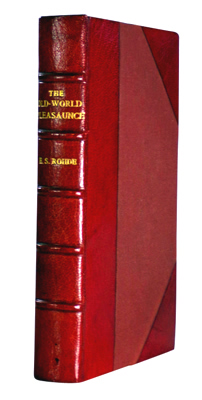 ROHDE, Eleanour Sinclair, 1881-1950 – editor : THE OLD-WORLD PLEASAUNCE : AN ANTHOLOGY.
London : Herbert Jenkins, 1925. First edition. An engaging anthology of prose and verse relating to gardens and gardening, culled from wide-ranging and often little-known sources from the reign of Charlemagne to the end of the eighteenth century. With separate sections, inter alia, on castle gardens; the joys of gardening; the gardener; women gardeners; lovesome flowers; sundial mottoes; the orchard; bee lore; astrological lore; gardening calendars, etc. With a bibliography of sources. Compiled by the distinguished gardener and garden designer Sophie Rohde of Reigate. "Will interest the gardener and historian alike, and even the general reader cannot fail to find much that will please him in these enchanting pages" (Sheffield Daily Telegraph, 4th February 1926).
Foolscap 8vo (169 x 105mm). (332)pp. Bound, for Hatchard's, in an elegant near contemporary half crimson morocco; top edge gilt; a couple of tiny marks; slight tanning of the outer edges of the endleaves, but still a very good copy.
£125
To purchase, call us or e-mail us at books@ashrare.com quoting stock number 45771 – or simply click on the button
TURNER, Tom (Thomas Henry Duke), 1946- : ENGLISH GARDEN DESIGN : HISTORY AND STYLES SINCE 1650.
Woodbridge : Antique Collectors' Club, (1986). First edition. A richly illustrated study of English garden design, the author identifying eleven major categories – Enclosed; French; Dutch; Forest; Serpentine; Irregular; Transition; Italian; Mixed; Arts & Crafts, and Abstract – with much passing reference to Capability Brown; Gertrude Jekyll; Edward Kemp; Richard Payne Knight; Leonard Knyff; George London; J. C. Loudun; Edwin Lutyens; T. H. Mawson; Uvedale Price; Humphry Repton, etc.
Demy 4to (29cm). 238,[ii]pp. Over 300 illustrations, sixty-nine in colour. Original cloth gilt; a very good copy in a just slightly nicked but also very good dust-jacket.
SOLD