HAMILTON, Mark : RARE SPIRIT : A LIFE OF WILLIAM DE MORGAN 1839-1911 [i.e. 1839-1917].
London : Constable & Co., (1997). First edition. A life of William Frend de Morgan, his ceramic work at Chelsea, Merton Abbey and Sands End, the novels, friendship with William Morris and Burne-Jones, etc. The dust-jacket corrects the erroneous biographical dates of the title-page.
Medium 8vo (25cm). xiv,236,[vi]pp. Plates, some coloured. Portraits. Original boards; slightly bruised, a few faint marks, but very good in a similarly lightly bruised dust-jacket, with a short repaired tear.
£10
To purchase, call us or e-mail us at books@ashrare.com quoting stock number 34680 – or simply click on the button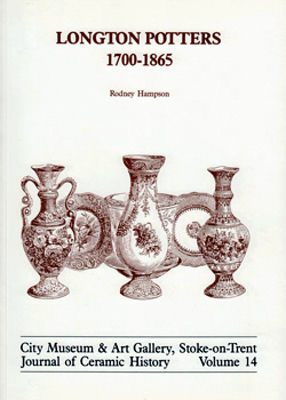 HAMPSON, Rodney : LONGTON POTTERS : 1700-1865.
Stoke-on-Trent : City Museum & Art Gallery, (1990). First edition. A detailed and invaluable reference guide incorporating the available facts relating to over 600 master potters and over 300 earthenware and china businesses which flourished in the southernmost and busiest of the six towns of the Potteries – businesses, principals, works, products and reference notes. Volume 14 in the Stoke "Ceramic History" series.
Pott folio (30cm). viii,236pp. Maps. Illustrations. Original pictorial wrappers; a very good copy.
£30
To purchase, call us or e-mail us at books@ashrare.com quoting stock number 43463 – or simply click on the button
WILLIAMS-WOOD, Cyril, 1909-1986 : ENGLISH TRANSFER-PRINTED POTTERY AND PORCELAIN : A HISTORY OF OVER-GLAZE PRINTING.
London : Faber & Faber, (1981). First edition. A well-researched history, with material on the invention of transfer printing; glazed porcelain; the northern school, Liverpool transfer printers; the free-lance transfer printers; the individual potteries and factories, etc., with much passing reference to Richard Abbey, the Battersea Enamel Works, Thomas Billinge, Louis-Peter Boitard, the Bow China Works, the Derby Porcelain Manufactory, Robert Hancock, Longton Hall, Thomas Radford, Thomas Rothwell, John Sadler, Simeon Shaw, Josiah Wedgwood, the Worcester Porcelain Company, etc.
Royal 8vo (26cm). (250),[ii]pp. Colour plates. Numerous illustrations. Original cloth; very good in a much-sunned and price-clipped dust-jacket.
£20
To purchase, call us or e-mail us at books@ashrare.com quoting stock number 30484 – or simply click on the button